Stern hope over US climate deal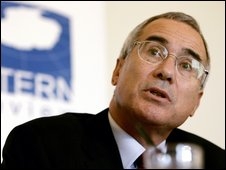 Economist Lord Stern has said he is optimistic a global deal to reduce carbon dioxide emissions will be struck under Barack Obama's US presidency.
Lord Stern, who was behind the first detailed economic assessment of the impact of climate change, said US and Chinese agreement to a cut was crucial.
President George W Bush's climate views were "prehistoric" and had been seen as an obstacle, Lord Stern told the BBC.
But many now believed the new president could take a lead, he said.
"He's night and day on this issue relative to his prehistoric predecessor George Bush," Lord Stern told the BBC's Today programme's guest editor Jarvis Cocker.
"That is a very big change and, while people saw the United States as a obstacle, now people are saying well perhaps the United States could really lead on this.
"And it is going to have to - because the two big ones on this are the United States and China."
'Technology hope'
Lord Stern is now Chair of the Grantham Research Institute on Climate Change and Environment at the London School of Economics.
He said in his interview that, as well as hoping for action from the new US leadership, he was encouraged by the the much deeper global understanding of climate change and its impact.
Many countries had made a clear commitment to reducing greenhouse gases, he said, which showed things were moving in the right direction.
Technological advances would also help, he argued.
Article Continues:Â http://news.bbc.co.uk/2/hi/uk_news/7805595.stm