General Motors posts $9.6 billion quarterly loss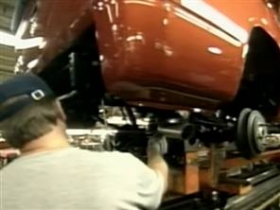 DETROIT - General Motors Corp. posted a $9.6 billion fourth-quarter loss and said it burned through $6.2 billion of cash in the last three months of 2008 as it fought the worst U.S. auto sales climate since 1982 and sought government loans to keep the century-old company running.
The nation's biggest domestic automaker said Thursday it lost $30.9 billion for the full year and expects an opinion from its auditors as to whether the company remains a "going concern" when its annual report is issued in March. That means the auditors will determine whether there is substantial doubt about the automaker's ability to continue operations.
Chief Financial Officer Ray Young said the determination will depend a lot on whether GM gets further government loans and whether it can accomplish its restructuring goals.
The company has received $13.4 billion in federal loans since Dec. 31 and says it needs up to $30 billion to stay out of Chapter 11 bankruptcy protection. Top GM executives were in Washington, D.C., Thursday to meet with the Obama administration's auto task force to talk about restructuring and additional loans.
Article Continues:Â http://www.msnbc.msn.com/id/29405227/