In Canada, 2 Oil Giants Plan Merger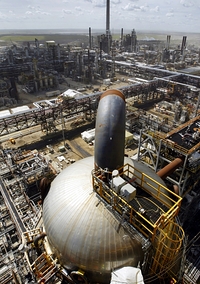 Suncor Energy has agreed to acquire Petro-Canada in an all-stock deal worth about $15 billion, the companies announced Monday morning.
The merger will combine two of the largest operators in Canada's oils sands which have high production costs and which have become a target of environmental groups.
Under the plan, Petro-Canada shareholders will receive 1.28 common shares of the expanded company for each share of Petro-Canada, while Suncor shareholders will receive new shares on a one-for-one basis. Petro-Canada shareholders will hold 40 percent of the enlarged company and Suncor shareholders will hold 60 percent.
In a statement, the companies said the merger was expected to save about $300 million a year. Like everyone in the energy business, both companies have seen prices and demand drop for their oil.
The end of Petro-Canada as an independent company would eliminate the last vestige of a ambitious, and highly controversial program, started by former Prime Minister Pierre Elliot Trudeau during the 1970s to assert Canadian control over the country's energy resources.
Article continues:  http://www.nytimes.com/2009/03/24/business/worldbusiness/24deal.html?hp