Glacier dust key to past climates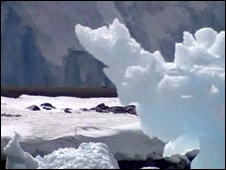 Research by Edinburgh, Stirling and Lille universities indicated that Patagonian glaciers were acting as an "on/off switch" for releasing dust.
Researchers said during the coldest periods of the last ice age, these glaciers were at their biggest and dust from them was blown to Antarctica.
During warmer periods, dust was trapped in meltwater which ran into lakes.
The study concluded that the coldest periods of the past 80,000 years corresponded with the dustiest periods in Antarctica's past.
Dust from the ice cores was analysed and scientists said they were a close match with mud of the same age in the Magellan Straits, suggesting that most of the dust originated in this region.
Article continues:  http://news.bbc.co.uk/2/hi/uk_news/scotland/edinburgh_and_east/7971017.stm