Oil Sands Development: A Health Risk Worth Taking?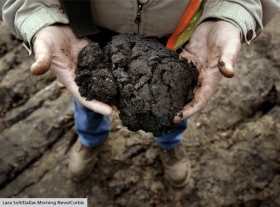 As traditional petroleum supplies dwindled and prices soared over the past few years, oil companies have shifted their attention to oil sands, a mix of sand, water, and a heavy, viscous hydrocarbon called bitumen that can be converted to oil. With the plunge in oil prices in fall 2008, many producers began canceling or postponing plans to expand oil sands development projects, but this turn of events could yet reverse, as Canada's vast oil sands deposits are lauded as a secure source of imported oil for the United States. At the same time, however, oil sands present troubling questions in terms of the environmental health effects associated with their development.
Oil sands are found in about 70 countries. Alberta, Canada, is home to the largest known oil sands deposits, underlying about 140,000 square kilometers of boreal forest. In the 2006 report Alberta's Energy Reserves 2005 and Supply Outlook 2006–2015, the entity then known as the Alberta Energy and Utilities Board estimated the amount of recoverable oil in Canada's oil sands at 175 billion barrels, second only to Saudi Arabia's reserves (which consist largely of conventional oil).
Other major deposits are located in Venezuela and Utah. According to figures cited by Argonne National Laboratory, the Utah deposits, if developed, could yield 12–19 billion barrels of oil. However, says Philip Smith, a professor of chemical engineering and director of the Institute for Clean and Secure Energy at the University of Utah, the Utah bitumen cannot be recovered using the water-intensive technologies pursued elsewhere for one simple reason: "In Utah, we just do not have that kind of water."