Empire State Building Undergoing $20M Green Renovation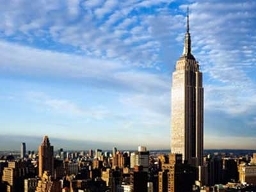 The Empire State Building, New York's 1931 signature skyscraper, is undergoing a $20 million environmental efficiency makeover to compete in the 21st century.
The project, which includes building an on-site facility to remake all 6,500 windows in the 102-story tower, aims to cut energy use almost 40 percent, said Ray Quartararo, director of development and project management for renovation supervisor Jones Lang LaSalle Inc.
"We're trying to do something that is very new," said Anthony Malkin, whose family owns the building. "By proving that this works, we empower people to argue that this is what should be done, and possibly not by option. Maybe this is something that should be required to be done."
Buildings account for 72 percent of the nation's electricity consumption and emit 38 percent of its manmade carbon dioxide, according to the U.S. Green Building Council, a Washington-based organization that rates properties for their effect on the environment.
Empire State Building tenants will save on heating and air conditioning bills after the renovation, Quartararo said.
His team is pushing for an "Energy Star" rating of 90 from the U.S. Environmental Protection Agency, meaning a building is more energy efficient than 90 percent of offices. Wien & Malkin LLC, the company that indirectly owns the tower, also plans to seek a "gold" rating for Leadership in Energy and Environmental Design (LEED) from the Green Building Council.