Public Trust Doctrine Could Aid Management Of U.S. Ocean Waters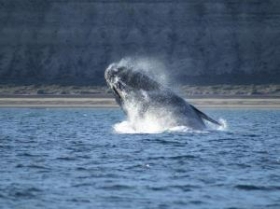 Since Congress lifted a moratorium on offshore drilling last year, federal lawmakers have grappled with the issue of how best to regulate U.S. ocean waters to allow oil, wave and wind energy development, while sustainably managing critical fisheries and marine animal habitats.
A new policy paper, published April 10 in Science by a team of Duke University experts, argues that establishing a public trust doctrine for federal waters could be an effective and ethical solution to this and similar conflicts.
"The public trust doctrine could provide a practical legal framework for restructuring the way we regulate and manage our oceans. It would support ocean-based commerce while protecting marine species and habitats," says lead author Mary Turnipseed, a PhD student at Duke's Nicholas School of the Environment.
The public trust doctrine is "a simple but powerful legal concept," Turnipseed says, that obliges governments to manage certain natural resources in the best interests of their citizens, without sacrificing the needs of future generations.
Article continues:  http://www.sciencedaily.com/releases/2009/04/090409142252.htm