Artificial Trees Could Cool Climate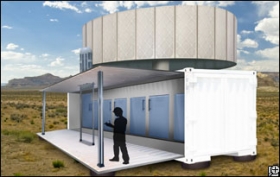 A new kind of tree could cool the planet by removing a major greenhouse gas from the planet's atmosphere.
What researchers are calling artificial trees, actually towers filled with various materials that adsorb carbon dioxide from the air, could play a major role in reducing climate change -- if they prove profitable.
"This is an industry still in its infancy," said Billy Gridley of Global Research Technologies, LLC, the company creating the C02-scrubbing towers. "This will eventually rival the size of today's energy markets."