Obama Marks Earth Day With Energy Plan Pitch in Iowa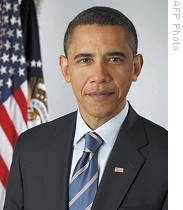 U.S. President Barack Obama is heading to the state of Iowa Wednesday to give an Earth Day message that pitches his plan for alternative energy development.
White House aides say the president will highlight his plans to create new jobs and protect the environment in a quick visit to the economically struggling town of Newton, Iowa. He plans to tour a wind energy plant there as a model for job creation and clean energy production that could lessen U.S. dependence on foreign oil.
Administration officials will make a similar push back in Washington as they testify before a House Energy and Commerce subcommittee on various environmental programs.
Meanwhile, environmental ministers from the Group of Eight (G8) industrial countries are meeting in Italy Wednesday for talks on curbing greenhouse gases that scientists say lead to global warming.