EPA To Withdraw Permit for New Mexico Coal-fired Power Plant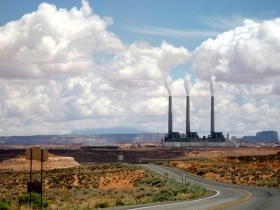 FARMINGTON, N.M.— In the face of appeals by the Center for Biological Diversity and other groups, the EPA today asked its Environmental Appeals Board to voluntarily reject its issuance of a permit approving the Desert Rock coal-fired power plant in northwest New Mexico. The EPA's issuance of a "prevention of significant deterioration" permit to the Desert Rock Energy Company is necessary for the power plant to proceed. The agency's withdrawal request continues a pattern of federal and state agencies, and power plant companies, delaying or canceling proposed coal-fired power plants around the country as concern grows for their environmental impacts and financial viability. Coal-fired power plants are the single greatest stationary source of carbon dioxide emissions in the nation, and their future has become uncertain as the federal government progresses toward regulating greenhouse gas emissions.
Among the issues warranting additional consideration was EPA's failure to complete section 7 consultation under the Endangered Species Act prior to issuing the permit. As the Center's appeal showed, the proposed coal plant would emit mercury and other contaminates in the San Juan River basin where the river and two endangered fish species are already afflicted with heavy metal contamination resulting from operation of three nearby coal-fired power plants. The Center's 2008 appeal asserted that potential for additional contamination and effects to endangered species required that EPA analyze impacts to those species prior to issuing the new Permit.
"Desert Rock promises even more pollution from coal combustion already driving fish species extinct in the San Juan River basin," said Amy Atwood, senior attorney and public lands energy director with the Center for Biological Diversity. "The EPA was indisputably required to consider the consequences of approving this permit pursuant to the Endangered Species Act. Today's action is a welcomed first step toward correcting that violation."