Air pollution, invasive species threaten Great Smoky Mountains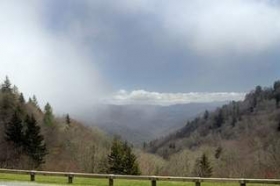 CATALOOCHEE – Little Cataloochee Valley still holds evidence of the more than 1,200 people who once called the remote section of what is now Great Smoky Mountains National Park home.
Visitors walking through the area might see an old church, a log cabin, or a stone wall amid the thickets of multiflora rose shrubs.
Red maples and tulip poplars have overgrown old settlements like Little Cataloochee Valley since the park's creation in 1934, as has the Japanese ornamental species once planted around cabins
A park crew now spends whole days in the valley cutting down the shrubs along with combating dozens of other nonnative species that have made their way into the park.
...
Exotic, invasive plants are just one threat the Smokies face as it celebrates 75 years as a national park. Invasive pests like the hemlock woolly adelgid are killing trees, air pollution has changed ecosystems and altered views, and the park is preparing for the effects of climate change on native species.
...
The park had some of the highest levels of air pollution in the country when it started its monitoring program in the 1980s.
The burning of fossil fuels — coal, oil and gasoline from power plants, industry and motor vehicles — causes most of the pollution that travels through wind currents from other areas of the Southeast. The park's location, combined with its high elevations, air stagnation and warm weather, trap these pollutants, causing high levels of ozone, haze and acid deposition.