Without Cafeteria Trays, Colleges Cut Water Use and Calories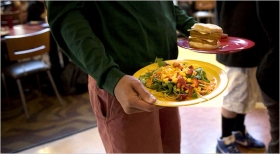 SARATOGA SPRINGS, N.Y. — John Belushi memorialized them in "Animal House" as he stockpiled edible projectiles for an epic food fight. Generations of college students in the Northeast have deployed them as makeshift sleds. But the once-ubiquitous cafeteria tray, with so many glasses of soda, juice and milk lined up across the top, could soon join the typewriter as a campus relic.
Scores of colleges and universities across the country are shelving the trays in hopes of conserving water, cutting food waste, softening the ambience and saving money. Some even believe trayless cafeterias could help avoid the dreaded "freshman 15" — the number of pounds supposedly gained in the first year on campus (and on all-you-can-eat meal plans). "I like not having to carry a tray around," said Peter McInerney, a freshman here at Skidmore College, as he grabbed a midafternoon snack of an egg sandwich, pancakes and apple juice. "It makes it feel like this is less of a machine just spitting food out. It's still not home, but it feels more homey without the tray."
The Sustainable Endowments Institute, a research organization that tracks environmental practices at the 300 colleges and universities with the largest endowments, said that 126 of them had curtailed use of trays, some of them banishing trays only from certain dining halls, and some introducing, for example, "trayless Tuesdays." Such moves are often part of a larger push to embrace environmentalism that includes hiring sustainability coordinators, introducing solar panels, composting dining-hall waste and encouraging students to turn off lights with catchy sayings like "Do It in the Dark."