Whale Sharks Travel Vast Distances to Breed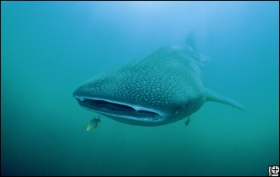 Whale sharks live throughout the world's tropics -- from the Indian Ocean to the Pacific to the Caribbean -- but these giant fish are surprisingly low in genetic diversity, according to a new study.
The finding suggests that even far-flung populations of whale sharks intermix and breed -- an important insight for conservation efforts. The work also adds to our basic understanding of a magnificent and elusive giant that can grow up to 60 feet long and weigh more than 40,000 pounds. Its fin alone can be 5 feet tall.
"To see one in the ocean is amazing," said Jennifer Schmidt, a developmental biologist at the University of Illinois at Chicago. "Their sheer size is overwhelming. The first time I ever got into the water near a whale shark, you're next to something that makes you feel tiny. It's hard to describe."