Pedestrian Plaza Reclaims Pavement for People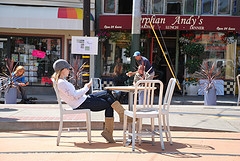 It's been popular in New York and other places where open space is at a premium, so San Francisco figured, "eh, why not?" The first reclamation of street space to create a pedestrian plaza opened last week on San Francisco's famous Castro Street at the intersection with 17th St.
It's a small space, maybe 1000 square feet in sum, but it's symbolic, and perhaps a hopeful sign for pavement reclamation enthusiasts everywhere. The idea is to close a section of street to vehicular traffic, so that citizens can have a place to eat, drink coffee, read the paper, and generally hang out outside. As part of San Francisco's Pavement to Parks Program, it is the first of what some hope will be many pieces of paved street that are repositioned as business centers.
If successful, the 17th and Castro plaza will be made permanent, and likely many others will follow in the city and perhaps in other cities. It makes the city more walkable and pedestrian friendly, and marks a stark contrast to the never-ending paving of America that began in earnest in the 1950's and continues to do this day in most parts of the country. And it's one of the big reasons why people love cities like San Francisco and New York and are increasingly returning to them as the illusions of suburbia burst like gnats on a windshield.
I went to the opening and interviewed some pedestrians, some hanger-outters, and some local businesses to see how they felt about the space.
I found many people hanging out in the movable chairs, tables, and benches that were installed by the city, and a different vibe to the area then its surrounding streets. It's flexible, an "outdoor lab" as the city calls it, so that furniture and design can change around the changing needs of residents and businesses.
Danny, a vendor with Skyline Asia, an artisan curtain and comforter maker, lives in the neighborhood and felt the area was much safer than before. "When people take pride in the area, you see them picking up trash, and just generally taking care of the place," he said. Business was good that day, with the company selling a couple of items over the course of several hours. The vendors there pay a fee to the city for use of the space, and set up booths and tables with their wares. In addition to Skyline Asia, there were several other vendors: photographers, caricature artists, artwork, and jewelry.
One plaza patron, Bryan Houston, was enjoying the beautiful sunny day reading a book, and remarked that, "It's not that noisy here, it's pleasantly active, but not bustling with wall-to-wall people, and the vibe is cool." When I asked if the plaza would affect his support for local businesses, Houston answered no, but countered that he was already buying mostly from these local businesses, since he lived in the area.
Orphan Andy's, a restaurant that faces the plaza, told me it had been a good day for business, with good foot-traffic coming in from off the street. One worker did lament that the plaza had taken forever to come to fruition: "All I can say is, it's finally here." A nearby spa owner said that the plaza was a great idea, but that it was a really strange spot for it. Indeed, the Muni (train) passing directly through the plaza every couple of minutes was a little distracting. He suggested that if the plaza got more permanent it might make more sense, but that it did seem a little transitory to truly become a pedestrian hangout. He did add, enthusiastically, though, that he thought it was going to be, "good for business".
The plaza will be on trial for four months. Whether it stays is up to the local residents and business owners. Whether the program is expanded to other parts of the city is up to, well, those same owners and residents, since the success of the 17th and Castro plaza will largely determine whether the city wants to put more resources into pedestrian plazas in other parts of the city.
This writer, for one, is writing this article from the plaza itself, and hopes that the place sticks around.
This article was reproduced with the kind permission of Triple Pundit.  For more news and information visit www.triplepundit.com