Geothermal Is Not So Clean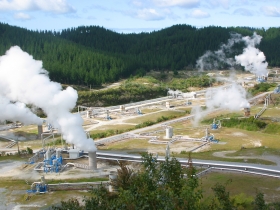 Geothermal energy has always been thought of as a clean, renewable form of power, but since the Hellisheidi geothermal power plant began operation about 30 km from central Reykjavik in 2006, various problems have come to light.
Not long after the station started producing electricity, Reykjavik residents became aware that they had to clean silverware every three to four days instead of three to four months because it was always covered with black soot.
Truck drivers who drove daily to sand mines in the western part of Hellisheidi found that the rubber in the suspension and steering systems of their vehicles became hard and prone to breakage after only a year, whereas normally it would take three to five years for this to happen.
People suspected that the Hellisheidi plant was responsible for the damage, but at first this was never discussed openly.
Then in September 2008, people saw that the moss vegetation adjacent to the Hellisheidi plant was severely damaged. The company Reykjavik Energy immediately arranged for research to be carried out on the moss damage, together with research at two other geothermal plants, Nesjavellir and Svartsengi, and a control site.