$500M in Labor Department Grants Available for Green Job Training Programs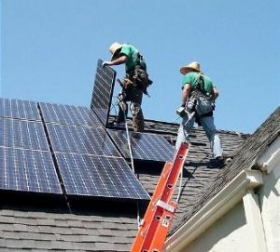 OAKLAND, Calif. -- Grant competitions opened Wednesday for $500 million in Recovery Act funds for training programs that will help retool the U.S. workforce for a clean energy economy.
Speaking in Memphis, Tennessee, U.S. Secretary of Labor Hilda L. Solis announced the availability of grants in five broad program areas that will prepare people for jobs in energy efficiency or renewable energy industries.
About $150 million in grants are earmarked for green job training programs that provide "pathways out of poverty," and a portion of some $290 million in grants will go toward efforts to retrain workers from the hard-hit auto industry.
"These grants are an essential first step towards not just building America's clean energy economy, but making sure that every community gets to enjoy the benefits of that economy," Green For All CEO Phaedra Ellis-Lamkins said in a statement provided to GreenBiz.com.