Better Particle Filters For Trucks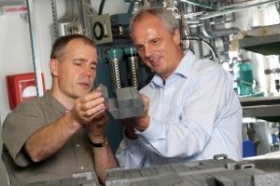 Particle filters are standard in the basic fittings for cars. Construction machines, city buses and garbage trucks must now follow suit. This can be achieved effectively and inexpensively thanks to a new material and design for ceramic filters developed by Fraunhofer researchers.
From 2011, new EU guidelines for emission values will apply. The aim is to reduce particle emissions by up to 95 per cent. Off-road vehicles such as diggers and fork-lift trucks, but also city buses and garbage trucks, will then have to be fitted with filters. Retrofitting is also worthwhile in view of the vehicles' long lives and high purchasing costs. Until now, such special engine variants have been catered for with basic geometric forms similar to those used for car filters, i.e. squares. The disadvantage is that in order to fit the square filters into the circular pipes, approximately 20 per cent of the material has to be cut away using expensive diamond cutters – costly waste.
There's a better way of doing this, figured Jörg Adler and Dr. Reinhard Lenk from the Fraunhofer Institute for Ceramic Technologies and Systems IKTS in Dresden. Based on a material patented at the IKTS, a porous silicon carbide ceramic, they developed a highly efficient ceramic diesel particle filter for off-road applications together with HUSS Umwelttechnik GmbH. They will be awarded with one of the 2009 Joseph von Fraunhofer prizes for their work.