Thoughts on the Waxman-Markey Climate Bill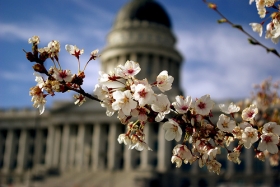 The Waxman-Markey climate bill (HR 2454), passed in the U.S. House of Representatives today, is hailed by many as the most important piece of climate change legislation ever. Yet it's still receiving a surprising amount of opposition from environmentalists, mostly for it's plentiful polluter permits, weak renewable electricity goals, and low carbon emission reduction targets .
Greenpeace outright rejects the bill, claiming that it "sets emission reduction targets far lower than science demands, then undermines even those targets with massive offsets" and warning that "We simply no longer have the time for legislation this weak." Friends of the Earth also warns against the bill, saying that in its current form, Waxman-Markey could actually increase the risks of climate change. But I still think the bill should be passed in the Senate. Here's why.
The Waxman-Markey bill is undeniably less than perfect, but it's still necessary. As our own Tom Schueneman notes, failure to pass something will result in embarrassment for the United States during the Copenhagen climate talks this December. If international leaders see that we can't pass climate change legislation, it will hinder the chances of an international agreement. Let's be real--the United States is a big polluter, but it's about to become small potatoes compared to developing countries like China and India. Right now, we just need to set an example. We can work on improved legislation later.
It's also important to remember that our future doesn't necessarily rest on the decisions of the federal government. States and cities have autonomy, and many are using it to pass strict renewable energy standards and feed-in tariffs. And not every private corporation is opposed to lowering carbon emissions and improving renewable energy, either. Remember: cleantech is trendy. Every day I read a new press release about how one company or another has drastically cut greenhouse gas emissions and piled solar panels on their roofs--not to mention heavy hitters like Cisco, Verizon, and IBM that are betting the big bucks on smart grid projects. Just as many companies engage in greenwashing, but it's heartening to know that some are working on our climate problems without government prodding.
Article continues:  http://www.triplepundit.com/pages/what-should-happen-to-the-waxmanmarkey-c.php