Climate Bill Debate Postponed By Senate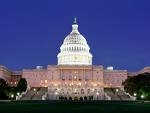 Legislation to slow climate change rolled into the Senate this week and almost immediately ground to a halt.
After two days of hearings, Democratic leaders agreed to mothball the measure until September. They blamed a full schedule on health care reform and the president's Supreme Court nominee for the delay.
But it was clear from its brief moment in the spotlight that the climate bill, which puts a national cap on emissions of greenhouse gases, faces withering opposition from Republicans. They say it will cost consumers too much and hurt American business. Bill backers say it will create a new green economy and is necessary to avoid devastating climate change.
Opponents are especially worried about how the climate bill would raise energy prices and thus prices on most goods manufactured in the Unied States. Republican Sen. Jim Bunning of Kentucky told witnesses from the Obama administration, who testified that the bill is necessary to curb global warming, "I have more than once pointed out that any action to reduce U.S. greenhouse gas emissions will be pointless unless there are similar limits on emissions in China, India, Russia and other countries."
Article continues:  http://www.npr.org/templates/story/story.php?storyId=106468450&ft=1&f=1025