World dependent on fossil fuels for a century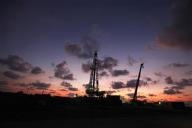 The world will remain heavily dependent on fossil fuels such as oil, gas and coal for the rest of this century, despite the best efforts of governments to move toward renewable energy, an energy economist said on Wednesday.
Peter Odell, professor of international energy studies at Erasmus University, Rotterdam, and author of the bestselling World and Oil Power, said the drive to limit greenhouse gases was likely to be held back by both technology and economics.
Painting a gloomy picture of the short-term outlook for renewables, Odell told Reuters that even with a growing global effort to limit carbon dioxide emissions, the world would still be relying on hydrocarbons by 2100.