Climate bill needs "off ramp": Senate farm chief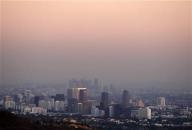 WASHINGTON (Reuters) - The climate bill being assembled in the U.S. Senate should include an "off ramp" allowing the United States to relax its greenhouse gas rules if other nation fail to control theirs, said the Senate Agriculture Committee chairman on Wednesday.
Agriculture Committee Chairman Tom Harkin of Iowa told reporters that he would allow other nations three to five years to act to curb carbon emissions.
"If other countries don't join us ... hey, we're off the ramp," he said during a break in an Agriculture Committee hearing on climate legislation.