Nissan's New Electric Hatchback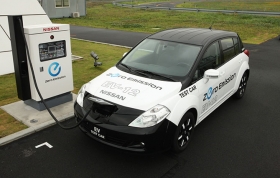 Nissan showed off its latest EV prototype today, a slick four-door, five-passenger hatchback that's good for 100 miles and tells you when and where to charge up.

Although it's just a mule wearing a Tiida body, the car provides the best glimpse yet of the production EV we'll see for the first time Sunday. Nissan plans to offer an all-electric vehicle in Japan and the United States next year, then roll it out globally in 2012.


"Nissan will be a leader in zero-emission vehicles," Toshiyuki Shiga said in Tokyo, according to Canadian Press. "EV is the answer."

Although most of the major automakers have promised to put EVs on the road within the next few years, Japan's No. 3 automaker is placing the biggest bet on the technology. CEO Carlos Ghosn has made it clear he believes cars with cords are the future, and he has made developing such vehicles a top priority both within Nissan and Renault, its parent company. The company reportedly plans to build 100,000 EVs within the next two years. The Department of Energy recently loaned Nissan $1.6 billion to retool its factory in Smyrna, Tennessee, to produce electric cars and the batteries to power them.
Range anxiety — the fear of being stranded by a dead battery — remains one impediment to the mass adoption of electric cars, and Nissan hopes to alleviate such worries with a car that tells you when and where to charge up. Nissan calls it "EV-IT" and says it will work with the car's navigation system to:
* Show the driving radius within range under the current state of charge.
* Calculate whether the vehicle is within range of a pre-set destination like your home or office.
* Provide information about available charging stations within the current driving range and provide info about those stations
Article continues: http://www.wired.com/autopia/2009/07/nissan-ev/