Not from My Back Yard? Homes Pollute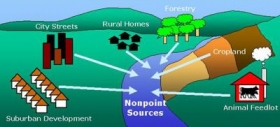 They say there's no place like home. But scientists are reporting some unsettling news about homes in the residential areas of California. The typical house there — and probably elsewhere in the country — is an alarming and probably underestimated source of water pollution, according to a new study reported today at the 238th National Meeting of the American Chemical Society.
In the study, Lorence Oki, Darren Haver and colleagues explain that runoff results from rainfall and watering of lawns and gardens, which winds up in municipal storm drains. The runoff washes fertilizers, pesticides and other contaminants into storm drains, and they eventually appear in rivers, lakes and other bodies of water.
"Results from our sampling and monitoring study revealed high detection frequencies of pollutants such as pesticides and pathogen indicators at all sites," Oki says of their study of eight residential areas in Sacramento and Orange Counties in California.
Graphic shows that polluted runoff originates from several sources, and has been linked to fish kills and a loss of aquatic species diversity. The study suggests current runoff models may underestimate pollution contributed by homes by up to 50 percent.
Article continues: http://www.eurekalert.org/pub_releases/2009-08/acs-hp080309.php