Plastic in Oceans Leaches Chemicals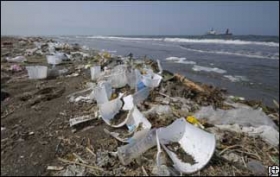 Amidst waves and wildlife in the world's oceans, billions of pounds of polystyrene, water bottles, fishing wire and other plastic products float in endless circles.
This bobbing pollution is more than just an eyesore or a choking hazard for birds. According to a new study, plastic in the oceans can decompose in as little as a year, leaching chemical compounds into the water that may harm the health of animals and possibly even people.
"Most people in the world believe that this plastic is indestructible for a very long time," said Katsuhiko Saido, a chemist at Nihon University in Chiba, Japan. He spoke this week at a meeting of the American Chemical Society in Washington, D.C.
"We are now concerned that plastic pollution is caused by invisible materials," Saido said through an interpreter. "This will have a great effect on marine life."