Banana diseases threaten African crop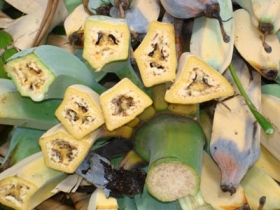 DAR ES SALAAM (Reuters) - Two banana diseases spreading in Africa could hurt food supply for 30 million people on the continent who largely rely on the crop, an international agricultural research body said on Wednesday.
The Consultative Group on International Agricultural Research (CGIAR) said the banana bunchy top viral disease has infected 45,000 hectares of bananas in Malawi alone and a survey done last year found it in 11 other countries.
"We found the disease to be well-established in Gabon, DRC (Democratic Republic of Congo), Northern Angola and central Malawi," CGIAR quoted Lava Kumar, a researcher at the International Institute of Tropical Agriculture and the survey's leader, saying in a statement.