Consumers Backlash Against Ban on Incandescent Light Bulbs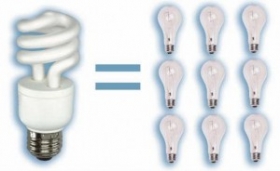 A monumental ban on incandescent bulbs went into effect today throughout the European Union, marking a significant milestone in policy regarding consumer habits as a way to combat our collective impact on climate change.
It's been long understood that compact fluorescent bulbs (CFLs) are significantly more energy efficient, and while there will be a roughly three year grace period to completely phase out those non-CFL bulbs that have already been fabricated from the market, according to the UK's Energy Saving Trust, this new ban could cut the average UK's household by 37 Pounds (approximately $60) and save 135 kg (approximately 298 lbs.) of CO2 emissions each year.
What is notable, however, isn't the potentially huge environmental impact this ban will have, but the large amount of resistance it is receiving.
According to articles in the BBC, NY Times, and several other publications, there has been a large public outcry about the EU disregarding both public opinion and public health in instituting this change.
"Why are we switching? Because we have to," said Ralph Wennig, a 40-year-old photographer told the Times. Wennig conceded to the notion that the bulbs would result in considerable savings in the long run, but in the near term, one CFL could be as high as 2,000% more expensive than a traditional incandescent bulb. So, in the eyes of someone like Wennig, whatever savings that would be realized in energy bill would be drastically undercut by the upfront cost of purchasing CFLs.
Others have complained about the fact that not all CFLs fit in to existing light fixtures, and that the light emitted is much harsher, significantly affecting the quality of life in many people's homes. EU officials have been quick to reassure consumers that they will still have plenty of choice, and that the changes would be gradual.
Are CFLs really good for the environment and bad for you?
Aside from the economic and aesthetic complaints of the light bulbs, several advocacy groups have also chimed in about the health risks of the wünder-bulb.
Sufferers of lupus, epilepsy, and several other conditions say the bulbs trigger painful symptoms. It has been linked to migraines and can considerably increase the risk of seizure, according to the BBC. One woman claimed that exposure to the new light bulbs led to a reddish-purple rash and continuous vomiting.
Another opponent told the British news organization: "Health is important and it should come over anything else, but they're not looking after ours. They're not listening to the public and aren't talking to the actual sufferers."
So, where is the balance then? Do CFLs really cause more harm than good? As this kind of fierce debate begins to resonate in the US, where incandescent bulbs are slated to be phased in 2012, what does that mean for us?
This article was reproduced with the kind permission of Triple Pundit.