Yellowstone Grizzlies Back on Endangered Species List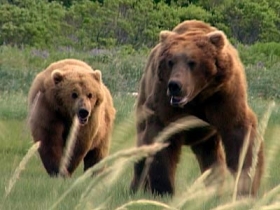 A federal district court ruling in Montana today returned Endangered Species Act protections to the Yellowstone grizzly bear population. In the case, brought by the Greater Yellowstone Coalition, Judge Donald Molloy ruled that inadequate regulatory mechanisms were put in place to manage the bears after federal protections were dropped in early 2007, and that U.S. Fish and Wildlife Service (FWS) failed to address the loss of an essential food source for the bears, whitebark pine seeds. The Natural Resources Defense Council (NRDC) and six other groups, represented by Earthjustice, have a similar case pending in Idaho.
For years, NRDC has been vigorously engaged in efforts to protect Yellowstone's grizzly bears and whitebark pine. Whitebark pine forests are being decimated throughout their range by an array of threats that have emerged in high elevation environments as a result of climate change. Researchers worry that the trees are being driven to functional extinction, radically altering some of the continent's most iconic landscapes and eliminating a crucial food source for Yellowstone's grizzly bears. NRDC petitioned to have the tree added to the federal Endangered Species List in December 2008.
Following is a statement from Louisa Willcox, senior wildlife advocate for NRDC:
"This is a chance to hit the reset button and get the right policies in place before it's too late. As we lose whitebark pine, we need to redouble efforts to anticipate and reduce conflicts with people: that means making sure people keep clean camps and yards, carry bear spray, and are prepared to stay safe in grizzly country."