U.S. seen unlikely to meet ethanol fuel-content goal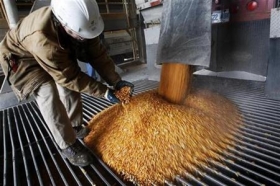 OTTAWA (Reuters) - The United States will likely not meet its goal of blending 100 million gallons of cellulosic ethanol into the gasoline supply in 2010 unless it raises the proportion of ethanol allowed in fuel, a U.S. industry group said on Tuesday.
Most U.S. ethanol -- a form of alcohol -- is made from corn. Cellulosic ethanol is made from nonfood sources such as agricultural waste and switch grass.
Retired U.S. General Wesley Clark, co-chairman of the Growth Energy group, said the 100 million gallon level could be reached in time if the cap on the permitted level of ethanol in regular gasoline is increased to 15 percent from 10 percent.