Programmable Thermostats: Saving the Planet While Saving You Money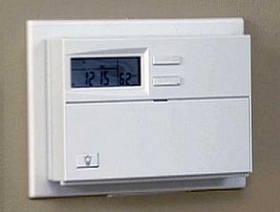 If you have a programmable thermostat, you can automate your heating and cooling systems to save energy when you're not at home or asleep. In winter, for example, your house can be a nippy 60ºF while you are at work, and then–while you are still boarding the bus for your commute back home–it can automatically move up to a toasty 68º or 70ºF. When you step in the door, the temperature is right where you want it. 
If you're home all day, the benefits are not as great. But the program still helps trim your usage while you're asleep. All in all, it's a sweet deal–dramatic energy savings with no sacrifice in comfort. Plus, while programmable thermostats range in cost from $40-$200, most people will save $180 per year or more using one. That means you'll get your investment back very quickly!
Top Tips
Understand your system. If you have an old, do-nothing thermostat, you can easily replace it with a nifty programmable model. Just make sure the thermostat you purchase is compatible with your type of heating system. (Many do not work with heat pumps or electric resistance heating.)
Understand your house. If your house is large, with multiple heating or cooling zones, you'll need a thermostat for each zone to maximize energy savings and comfort.
Article continues: http://www.sierraclubgreenhome.com/go-green/heating-ventilation-air-conditioning-hvac/programmable-thermostats/