Volcanic Air Pollution Chokes Locals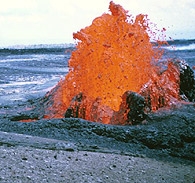 Between fiery destruction, mudslides, and ash clouds that blot out the sun, volcanoes aren't short on spectacular threats to human life.
But on the island of Hawaii, residents living downwind of the actively erupting Kilauea volcano are at risk of a range of more subtle health problems, including bronchitis, asthma attacks, lung infections, and sore throats thanks to volcanic air pollution, according to a new study.
Kilauea has been erupting since 1983, oozing streams of lava in a relatively peaceful volcanic display. Gas from the eruption is rich in sulfur dioxide (SO2), though, and trade winds regularly waft it toward small communities on the southern part of the island.
Article continues: http://dsc.discovery.com/news/2009/10/28/vog-respiratory-volcano.html
http://dsc.discovery.com/news/2009/10/28/vog-respiratory-volcano.html