October Third Coolest, Wettest on Record, Across US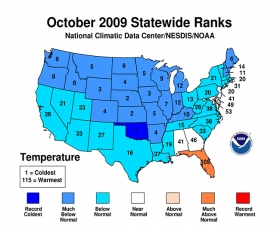 The National Oceanic and Atmospheric Administration reported that, on average, the mainland US (excluding Alaska) was the third coolest on record, and the records go back to 1895 at some stations. Average temperatures were 4.0 degrees F below the long term average. Rainfall average was 4.15,  twice the long term average of 2.04 inches.
U.S. Temperature Highlights
October 2009 was marked by an active weather pattern that reinforced unseasonably cold air behind a series of cold fronts. Temperatures were below normal in all regions with the exception of the Southeast which had near normal temperatures for the month.
Oklahoma recorded its coldest October on record while the month ranked in the top five for Arkansas, Colorado, Iowa, Kansas, Minnesota, Missouri, Montana, Nebraska, South Dakota, and Wyoming.
Florida was the only state to record an above normal temperature average in October. It was the sixth consecutive month that Florida's temperature was above normal.
U.S. Precipitation Highlights
The nationwide average precipitation of 4.15 inches nearly doubled the long-term average. This was the first month since December 2007 that no region in the United States recorded below normal precipitation.
Iowa, Arkansas, and Louisiana recorded their wettest October while only Florida, Utah, and Arizona had below normal precipitation.
Moderate-to-exceptional drought covered 12 percent of the contiguous United States, the second-smallest drought footprint of the decade, based on the U.S. Drought Monitor. Major drought episodes in California and South Texas improved significantly. Drought conditions, however, emerged across much of Arizona.
About 45 percent of the contiguous United States had moderately-to-extremely wet conditions at the end of October, according to the Palmer Index. This is the largest such footprint since February 2005.
For more information: http://www.noaanews.noaa.gov/stories2009/20091110_octoberstats.html