Birth of New Species Witnessed by Scientists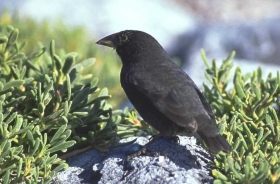 On one of the Galapagos islands whose finches shaped the theories of a young Charles Darwin, biologists have witnessed that elusive moment when a single species splits in two.
This miniature evolutionary saga is described in a paper published Monday in the Proceedings of the National Academy of Sciences. It's authored by Peter and Rosemary Grant, a husband-and-wife team who have spent much of the last 36 years studying a group of bird species known collectively as Darwin's finches.
The finches —  technically, tanagers — have adapted to the conditions of each island in the Galapagos, and they provided Darwin with a clear snapshot of evolutionary divergence. In the PNAS paper, they describe something Darwin could only have dreamed of watching: the birth of a new species.
The species' forefather was a medium ground finch, or Geospiza fortis, who flew from a neighboring island to the island of Daphne Major in 1981. He was unusually large, especially in beak width, sang an unusual song and had a few gene variants that could be traced to another finch species. This exotic stranger soon found a mate, who also happened to have a few hybrid genes. The happy couple had five sons.
Article continues: http://www.wired.com/wiredscience/2009/11/speciation-in-action/