Nanoparticles Used in Common Household Items Shown to Cause Genetic Damage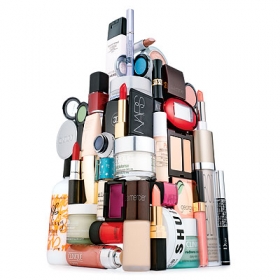 Titanium dioxide (TiO2) nanoparticles, found in everything from cosmetics to sunscreen to toothpaste to paint to vitamins, caused systemic genetic damage in mice, according to a comprehensive study conducted by researchers at UCLA's Jonsson Comprehensive Cancer Center.
The TiO2 nanoparticles induced single- and double-strand DNA breaks and also caused chromosomal damage as well as inflammation, all of which increase the risk for cancer. The UCLA study is the first to show that the nanoparticles had such an effect, said Robert Schiestl, a professor of pathology, radiation oncology and environmental health sciences, a Jonsson Cancer Center scientist and the study's senior author.
Once in the system, the TiO2 nanoparticles accumulate in different organs because the body has no way to eliminate them. Because they are so small, they can go everywhere in the body and may interfere with sub-cellular mechanisms.
The study appeared the week of November 16 in the journal Cancer Research.
Article continues: http://www.sciencedaily.com/releases/2009/11/091116165739.htm