Tidal Power Turbines Producing More Energy Than Expected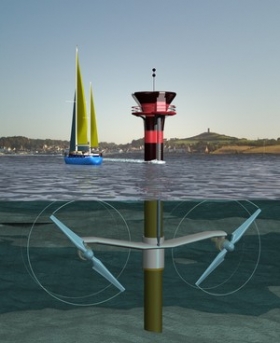 Peter Fraenkel, Technical Director and co-founder of Marine Current Turbines, the UK-based company that designed and developed SeaGen, the world's only commercial scale tidal stream turbine, announced at the Lisbon International Ocean Power Conference that he is "delighted with SeaGen's performance. It is running reliably and delivering more energy than originally expected in an extremely aggressive environment."
The turbines are powered by a consistent tidal current that surges back and forth with every tide through the Strangford Narrows in Northern Ireland at speeds of up to 10 miles per hour. The generators typically produce enough energy to meet the average electricity needs for 1500 UK homes during each ebb and each flood tide.
"We are getting more energy than expected mainly because the resource is more energetic than originally predicted during earlier surveys," added Fraenkel.
Article continues: http://www.matternetwork.com/2009/11/tidal-power-turbines-producing-more.cfm