Nanofarming Offers a Kinder Way to Get Biofuel from Algae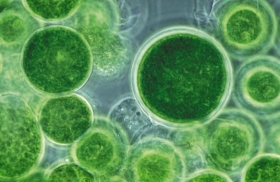 One barrier to cost-competitive biofuel from algae is about to fall, and we may have nanofarming to thank for that. The new technology uses tiny nanoparticles to absorb free fatty acids from living microalgae. It is being developed by the U.S. Department of Energy's Ames National Laboratory and Iowa State University, in partnership with biofuel specialist Catilin, Inc.

In conventional biofuel production, algae are harvested and killed in order to extract their oil. It's not a very efficient process - sort of like uprooting a tree and stripping off the apples to make cider. By coaxing out the oil on a molecular level, nanofarming enables algae to give up their product while continuing to grow. Add Catilin's non-toxic biofuel catalyst to the mix, and you have the makings of a more sustainable and cost-competitive biofuel - with some extra benefits, too.
Algae and Nanofarming
The tiny particles developed by Ames and Iowa state are described as surface-functionalized mesoporous nanoparticles, aka incredibly tiny sponges. The research team headed by Dr. Victor Shang-Yi Lin has fine tuned both the surface and pores of the particles, to make them absorb the free fatty acids used in biofuel production.
Article continues: http://www.matternetwork.com/2009/12/nanofarming-offers-kinder-gentler-way.cfm