Photo corner: Penguin Day Care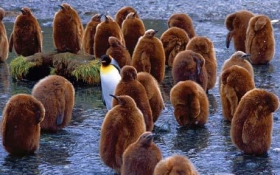 The black and white king penguin waddled into the crowd of chicks - known as woolies - as they fattened up on the shoreline of South Georgia Island in the southern Atlantic.
The birds pictured are among 400,000 king penguins living in the world's largest colony.
Photographer David C. Schultz named his shot "Penguin Day Care" because the adult is supervising the brown chicks playing in the stream.
The chicks lose their brown down feathers after a year.
Article continues: http://www.telegraph.co.uk/earth/wildlife/6716870/Penguin-searches-for-winter-coat.html
Photo credit: David C. Schultz