El Nino to boost 2010 U.S. crops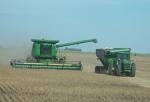 U.S. farmers grew record-large corn and soy crops in 2009 but production in 2010 could be even bigger, aided by an El Nino weather pattern that is typically a boon to the Midwest but less so for growers in Australia and southeast Asia, a forecaster said on Thursday.

Allen Motew, meteorologist at QT Weather, forecast a dry U.S. spring, which should minimize problems at planting time, followed by a favorably wet summer growing season.
"It's exactly what we need to increase (crop) yields," Motew said at the Top Producer Seminar, a farmers' conference held in Chicago.
Temperatures in the U.S. Corn Belt are expected to be mostly below normal this summer, while precipitation will be above normal.
"We have a double-whammy here -- colder and wetter," Motew said. "The odds say we are going to have quite a good year."
Motew said corn yields typically increase when an El Nino weather pattern persists for two years in a row. The same is likely true for soybeans, he said.
In two of the most recent such years, 1992 and 1998, corn yields increased by 21.1 and 6.1 percent, respectively, Motew said.
He said that yields increased during the last 16 of 22 seasons of El Nino weather.
Article continues: http://www.reuters.com/article/idUSTRE60R7H420100128