Drilling may have caused Indonesia mud volcano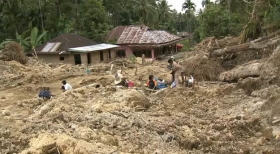 A team of scientists said in a report on Friday that they had found the strongest evidence yet linking a devastating mud volcano in Indonesia to drilling at a gas exploration well by local energy firm PT Lapindo Brantas.

Lapindo has denied triggering the disaster through its drilling activities, arguing the mud volcano near Indonesia's second-biggest city of Surabaya was triggered by an earthquake.
The hot mud started spewing from the East Java drilling site in 2006 and has now displaced nearly 60,000 people.

A scientific team led by Richard Davies of Britain's Durham University said data released by Lapindo provided new evidence indicating that drilling caused the disaster.
"We found that one of the on-site daily drilling reports states that Lapindo Brantas pumped heavy drilling mud into the well to try to stop the mud volcano. This was partially successful and the eruption of the mud volcano slowed down," Davies said in a statement.
"The fact that the eruption slowed provides the first conclusive evidence that the bore hole was connected to the volcano at the time of eruption."
The team led by Davies had previously said in 2008 that it was almost certain drilling caused the disaster.
Mark Tingay, a member of the team who is based at Australia's Curtin University, disputed Lapindo's assertion that mud flow was partly triggered by an earthquake in the Central Java city of Yogyakarta two days earlier.
"The earthquake they claimed was responsible had trivial impact because of the distance" between Yogyakarta and the disaster site, he told Reuters by telephone. Yogyakarta is over 250 km (155.3 miles) south west of the mud volcano site.
Article continues: http://www.reuters.com/article/idUSTRE61B0Z920100212