China and India endorse Copenhagen Climate Accord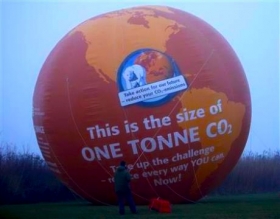 China and India joined almost all other major greenhouse gas emitters Tuesday in signing up to the climate accord struck in Copenhagen, boosting a deal strongly favored by the United States.

More than 100 nations have now endorsed the Copenhagen Accord, a non-binding agreement reached after two weeks of tortuous wrangling at a 194-nation summit in December.
The accord plans $100 billion a year in climate aid for developing nations from 2020 and seeks to limit global warming to below 2 degrees Celsius (3.6F) above pre-industrial times, but produced no timetable of emission limits to reach that goal.
Indian Environment Minister Jairam Ramesh told parliament that India would also let its name join the list of "associated" countries on the three-page document.
"This will strengthen our negotiating position on climate change," Ramesh said.
Chinese negotiator Su Wei wrote a one-sentence letter to the U.N. Climate Change Secretariat in Bonn saying that it could "proceed to include China in the list."
China, the United States, the European Union, Russia and India are the main emitters of the greenhouse gases that are blamed for global warming -- mostly carbon dioxide from burning fossil fuels. Only Russia has yet to associate with the deal.
The endorsements are a small boost for the Accord, which environmentalists say was a bare-minimum outcome from a summit that many nations hoped would end with a broad, legally binding pact to fight climate change.
But they offer little indication of how, or when, rich and poor nations might agree on a binding mechanism for combating climate changes that scientists say will multiply droughts, floods, storms and heatwaves, and dramatically raise sea levels.
China and India have preferred since Copenhagen to stress the supremacy of the 1992 U.N. Climate Convention, agreed in Kyoto, which puts the emphasis on rich nations cutting emissions.
Article continues: http://www.reuters.com/article/idUSTRE6283A120100309