Attention Bikers - Google Maps is for you!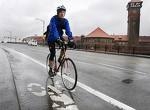 At long last, Google Maps has routes specifically for bikes.
With the click of a mouse, the new feature allows you to plot the best (and flattest!) ride from Point A to Point B. Several cities, including New York, Minneapolis, San Francisco and Portland, Oregon, have bike-specific mapping sites. But Google is rolling it out in 150 cities nationwide and announcing it Wednesday at the 10th Annual Bike Summit in Washington, D.C.
"This has been a top-requested feature from Google Maps users for the last couple years," says Shannon Guymon, product manager for Google Maps. "There are over 50,000 signatures on a petition."
The news thrilled bike advocates, who have for years been pushing — and petitioning — the search giant to include bike routes on Google Maps. No longer do they have to rely upon paper maps or open-source DIY map hacking or crazy-cool helmet-mounted heads up iPhones.
"This new tool will open people's eyes to the possibility and practicality of hopping on a bike and riding," says Andy Clarke, president of the League of American Bicyclists. "We know people want to ride more, we know it's good for people and communities when they do ride more — this makes it possible. It is a game-changer, especially for those short trips that are the most polluting."
Cyclists will have to map their victory lap from their desks, because Google's cool mapping tool is available only on a computer for now.
"Making the bike-route tool available on Google Maps for mobile devices is a high priority," Guymon says. But it's a priority without a launch date.
Read More http://www.wired.com/autopia/2010/03/google-maps-for-bikes