Cooling Towers for NY Power Plants?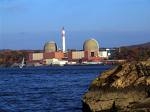 New York environmental regulators this week released a plan to protect aquatic life in the state's rivers that could cost power generators billions to upgrade their facilities.
The plan, which still needs final approval, would affect most of the state's six nuclear power plants and several facilities powered by fossil fuels that use water for cooling. The state Department of Environmental Conservation (DEC) wants the facilities to recycle and reuse the water in a closed-cycle cooling system rather than discharging the heated water into rivers.
One of the first plants to face the proposed regulations would be Entergy Corp's 1,910-MW Indian Point, located about 45 miles north of New York City where it draws water from the Hudson River. Entergy has already asked the DEC for a new water permit and requested that the federal government renew the license for both of its reactors.
The DEC, which is accepting comment on its proposal through May 9, said it would require closed-cycle systems -- like cooling towers -- unless "an operator can demonstrate that closed-cycle cooling technology cannot physically be implemented at a particular location."
In February, Entergy filed a report with the DEC that found it would be better to add new underwater screens to the plant's existing cooling water intake system rather than install expensive cooling towers.
The state however wants plants to use closed-cycle systems, which recirculate the water instead of discharging it after one use. The DEC said closed-cycle systems reduce the impact on aquatic life by more than 90 percent.
Article continues: http://www.reuters.com/article/idUSTRE62B4N320100312