The Home Depot Foundation Releases 2009 Annual Report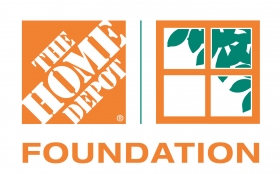 The Home Depot® Foundation has just announced the release of its 2009 annual report. Demonstrating its commitment to building sustainable homes and communities and preserving resources, the Foundation has issued its report in an online version only, saving 200 trees, 44,640 gallons of water, 100 million BTUs of energy, 9,760 pounds of solid waste and more than 16,000 pounds of greenhouse gases.*

The annual report highlights the Foundation's 2009 successes and contains an update on The Home Depot Foundation's 10-year pledge to provide $400 million in grants to build or refurbish 100,000 affordable, healthy homes and plant or restore 3 million community trees. 
Packed with interactive features, including videos and the ability to share information by email or social media outlets, this annual report is informative and entertaining.

2009 highlights include:
Provided cash and in kind donations exceeding $74 million to more than 5,300 nonprofit organizations nationwide
Partnered with local leaders and more than 5,000 nonprofit organizations to help over 33,000 families enjoy the economic, social and environmental benefits of living in healthy, affordable homes.
Planted or restored over 169,000 community trees.
Launched the Partners in Sustainable Building program with Habitat for Humanity International in 122 U.S. markets and Mexico. This year, 1,000 homes were built to Energy Star® Plus standards, and many of those were built to even higher green standards, such as LEED for Homes.
Launched the Sustainable Cities Institute (www.sustainablecitiesinstinitute.org) to assist community and city leaders in identifying and implementing vetted best practices to bring the economic, social and environmental benefits of sustainability to their area.
Donated more than $37 million in products from 1,100 Home Depot stores to nonprofit partners, resulting in the diversion of 12,500 tons from landfills. Opened the first two Framing Hope Warehouses, located in Pittsburgh, PA and Buffalo, NY. These warehouses will help distribute donated products to smaller nonprofit organizations that cannot absorb the large quantities of product donated by each store.
Built 66 KaBOOM! playgrounds across the U.S.
To discover more about The Home Depot Foundation's efforts across the country at the home, community, and city level and see the people whose lives have been changed, the interactive annual report can be viewed at www.homedepotfoundation.org/annualreport09/annual_report.html
*Calculations based on research by Environmental Defense Fund and other members of the Paper Task Force.