Massive oil spill in Gulf of Mexico nears landfall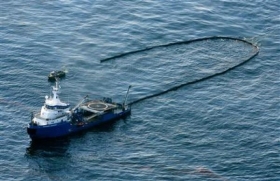 A massive oil spill in the Gulf of Mexico neared wildlife refuges and seafood grounds along the Louisiana coast on Friday, as efforts redoubled to avert what could become one of the worst U.S. ecological disasters.

President Barack Obama pledged on Thursday to "use every single available resource" to contain the oil slick and the U.S. military ratcheted up operations.

The leak from a ruptured oil well on the ocean floor off the coast of the southern state is pouring out crude oil at a rate of up to 5,000 barrels (210,000 gallons or 955,000 liters) a day, according to the National Oceanic and Atmospheric Administration -- five times more oil than previously thought.
The escalating threat has deepened fears of severe damage to fisheries, wildlife refuges and tourism in Louisiana, Mississippi, Alabama and Florida.
The Gulf Coast and its marshlands are home to many species of animals, including manatees, sea turtles, dolphins, porpoises, whales, pelicans and other birds. The Gulf is also one of the world's richest seafood grounds, teeming with shrimp, oysters, mussels, crabs and fish.
Louisiana Governor Bobby Jindal, whose state is still recovering from the ravages of Hurricane Katrina in 2005, declared a state of emergency and asked the Defense Department for funds to deploy up to 6,000 National Guard troops to help.
The spreading oil is about 3 miles from a fragile wildlife preserve in marshland at the edge of the Mississippi Delta, which experts said would seriously damage the ecology of the area and could be very difficult to clean up.
Homeland Security Secretary Janet Napolitano declared it "a spill of national significance," meaning that federal resources from other regions could be used to fight it.
Obama said London-based oil giant BP, the majority owner of the offshore well, was ultimately responsible for the cost of the clean-up, which has pounded BP's share price and those of other companies involved in the project.
Shrimp fishermen in Louisiana have filed a class-action lawsuit against BP, Swiss-based rig company Transocean Ltd, Halliburton and Cameron, accusing them of negligence. None of the companies had an immediate comment on the lawsuit.
Article continues: http://www.reuters.com/article/idUSN298848720100430