U.S. pressures BP as Gulf oil slick spreads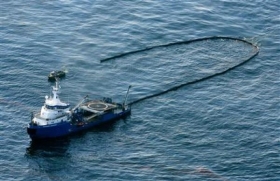 The U.S. government pressured energy giant BP to avert an environmental disaster as a huge, unchecked oil spill reached coastal Louisiana, imperiling fish and shrimp breeding grounds and vulnerable wetlands teeming with wildlife.

With oil gushing unchecked from a ruptured deepwater well in the Gulf of Mexico off Louisiana, President Barack Obama's administration piled pressure on London-based BP Plc, the owner of the blown-out well, to do more to shut off the flow and contain the spreading slick.
Obama sent Interior Secretary Ken Salazar and Homeland Security Secretary Janet Napolitano to Louisiana to assess the situation.
Salazar met with BP executives and said he told them to "work harder and faster and smarter to get the job done."
"We cannot rest and we will not rest until BP permanently seals the wellhead and cleans up every drop of oil," he said.
Crude oil is pouring out at a rate of up to 5,000 barrels (210,000 gallons or 795,000 liters) a day, according to government estimates, but experts said the quantity of crude escaping was difficult to measure.
Experts said there was little hope that BP would succeed with a relatively quick fix to cap the well.
BP hopes to cover the well with a giant inverted funnel that would capture the oil and channel it to a tanker ship.
But that would take four weeks, by which time over 150,000 barrels could have been spilled. If the funnel does not work, BP will have to try stemming the flow by drilling a relief well, which would take two to three months.
"At 5,000 barrels a day, in two months' time it's going to be a bigger spill than the Exxon Valdez, said Tyler Priest, director of global studies at the University of Houston's Bauer College of Business. "You're looking at a huge disaster."
Article continues: http://www.reuters.com/article/idUSN298848720100501