Obama to visit Gulf Coast to see oil slick first hand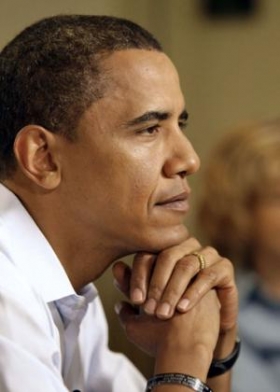 President Barack Obama will visit the U.S. Gulf Coast on Sunday as his administration aims to deflect criticism that it could have responded more quickly to a huge oil spill in the Gulf of Mexico that threatens to become an economic and ecological catastrophe.

The incident could ultimately rival the 1989 Exxon Valdez disaster in Alaska, the worst U.S. oil spill ever.
Efforts to contain the spill and protect the sensitive coastline continued on Saturday, but were limited due to rough seas kicked up by heavy winds, authorities said.
U.S. officials conceded on Saturday it was "inevitable" that oil from the uncontrolled leak in the Gulf of Mexico would hit the U.S. coast -- most likely Louisiana first.
Members of Obama's Cabinet, including the homeland security and interior secretaries, were set to appear on the Sunday morning TV news shows to discuss the administration's response. Obama's aides said on Saturday he had been "fully engaged" from the beginning in monitoring the widening problem.
"There's enough oil out there that it is logical to think it will hit the shoreline. It's just a question of where and when," said U.S. Coast Guard Admiral Thad Allen. "Mother Nature gets a vote in this thing.
Coastline from Louisiana to Florida is threatened by the slick, estimated to be some 130 miles by 70 miles in size and still growing. Many of the communities in the path of the oil slick are the same ones devastated by Hurricane Katrina in 2005.
Article continues: http://www.reuters.com/article/idUSN0121519420100502