Fishless Lake in Adirondacks Shows Signs of Recovery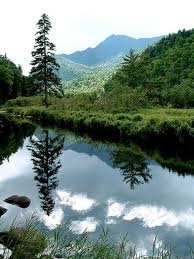 Chuck Boylen and his crew of six had been hiking for around two hours, surrounded by nothing but the tree-lined, towering Adirondack Mountains, when they reached the wide-open space of Brooktrout Lake.
"You can just feel the remoteness," said Boylen, a biology professor at Rensselaer Polytechnic University in New York, who is part of a multi-organizational team that has been studying the effects of air pollution on this and other lakes in the Adirondacks every summer for the last 16 years.
The goal of the research is to determine how the Clean Air Act, passed in 1990, has affected the lakes in the Adirondacks, many of which had become so acidic they no longer had any fish. The fish killer was sulfur dioxide, which for decades had been released from various industries, before undergoing chemical reactions in the atmosphere and combining with water droplets to create acid rain.
The research by Boylen and his team will be the most comprehensive long-term study of how acidification affects lake ecosystems to date, and will also look at how those ecosystems recover, if in fact they do.
"There hasn't been a study evaluating the changes in the chemistry together with the biota, over a long period of time," said study team member Sandra Nierzwicki-Bauer, director of the Darrin Fresh Water Institute at Rensselaer.
The studies show that the effects on the Adirondacks lakes were severe in some cases, but that there's reason to hope for some recovery.
Article continues: http://www.livescience.com/environment/adirondack-lake-ecosystem-signs-of-recovery-100730.html