Mauritania plants trees to hold back desert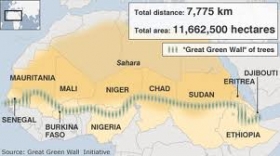 Mauritania has launched a tree-planting program aimed at protecting its capital from the advancing desert and coastal erosion, a project that could eventually extend thousands of kilometers across Africa.
President Mohamed Ould Abdel Aziz on Saturday planted the first of some 2 million trees that are meant to form a "green belt" around the capital, Nouakchott, and curb erosion elsewhere in the desert nation that straddles black and Arab Africa.
"The aim of this green belt is to stop the advancing desert and stop encroachment by the sea, which is threatening the town with floods," Ba Housseynou Hammadi, minister for the environment and sustainable development, said.
"This belt will also play an economic role. Some of the trees that have been chosen can be used for firewood. Others will produce gum acacia, which is (a natural gum) sought after for pharmaceutical products," Hammadi added.
It will take four years to plant the trees in Mauritania.
The project is part of a broader ant-desertification plan, the "Great Green Wall," launched by the African Union in 2005 to try to create a 15 km-wide wall of greenery stretching 7,000 km between Africa's east and west coasts.  Image shows the planned location of the Great Green Wall across Africa.
Article continues: http://www.reuters.com/article/idUSTRE67K1LI20100821