Drought tolerant maize to hugely benefit Africa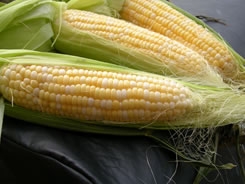 Distributing new varieties of drought tolerant maize to African farmers could save more than $1.5 billion dollars, boost yields by up to a quarter and lift some of the world's poorest out of poverty, a study found.
The study published on Thursday by the Mexico-based International Maize and Wheat Improvement Center (CIMMYT), with input from other food research institutes, focused on 13 African countries in which it has been handing out drought tolerant maize to farmers over the past four years.
It described maize as "the most important cereal crop in Africa," a lifeline to 300 million vulnerable people.
The Drought Tolerant Maize for Africa plan aims to hasten the adoption of maize varieties that withstand dry weather.
"The vision of this project is to generate by 2016 drought tolerant maize that ... increases the average productivity of maize under smallholder farmer conditions by 20-30 percent on adopting farms (and) reaches 30-40 million people."
It also aims to add an annual average of $160 - $200 million worth of additional grain to Africa's harvest, it said.
Wilfred Mwangi, a Kenyan agricultural economist on the project, said the drought resistant maize shows comparative yields that beat other varieties even if there's no drought.
"We are saying that comparing with whatever farmers are growing now, these varieties will outperform what they are doing," he told Reuters in a telephone interview.
Photo credit: http://www.ghanabusinessnews.com/2009/12/12/ghana-crop-scientists-develop-weather-tolerant-maize-varieties/
Article continues: http://www.reuters.com/article/idUSTRE67P01V20100826