Proposed Vehicle Labels to Include GHG Emissions and Fuel Economy Comparisons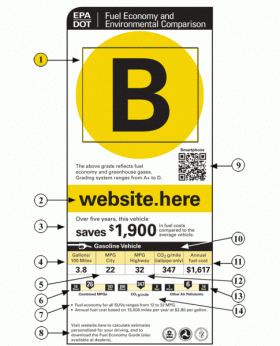 August 31, 2010 – The U.S. EPA and Department of Transportation today proposed two new fuel economy labels for passenger vehicles and light trucks, both of which change the way fuel efficiency information is communicated and includes detailed information about vehicles' greenhouse gas emissions.

The first label design (see Image) proposed features a letter grade which communicates the vehicles overall fuel economy and greenhouse gas emissions performance. It also provides consumers an estimate of the expected fuel cost savings over five years compared to an average gasoline-powered vehicle of the same model year.
The second label proposed would keep the standard miles-per-gallon metric and communicate the yearly fuel costs of the vehicle instead of the fuel cost savings. The label also includes metrics about the vehicles GHG emissions as compares overall performance with other vehicles in the same class as well as average vehicle performance.
Article continues: http://sustainablelifemedia.com/content/story/brands/proposed_vehicle_labels_include_ghg_emisions_and_fuel_economy_comparisons