Torrential rains kill 18 in Guatemala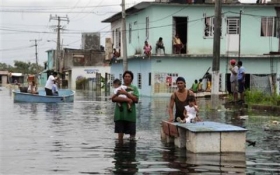 At least 18 people were killed in Guatemala on Saturday, including a dozen on a bus that was buried in a landslide, as heavy rains lashed the Central American nation and southern Mexico.
A dozen people died when the bus they were traveling on was suddenly engulfed by mud around 8 a.m. on the Inter-American highway 50 miles outside of the Guatemalan capital, emergency workers said.
Another six people were killed in separate incidents, Guatemalan President Alvaro Colom told reporters.
Tropical weather systems in both the Pacific and the Gulf of Mexico have triggered torrential rains throughout Guatemala and southern Mexico.
Constant rain in the region over the last week has left hillsides saturated with water and with more precipitation forecast for Sunday officials in both Guatemala and Mexico are taking precautions against landslides.
Heavy flooding in the Mexican Gulf state of Tabasco forced thousands of people from their homes. Authorities in neighboring Chiapas and Oaxaca states, which border Guatemala, and the Gulf state of Veracruz also reported serious flooding.
Photo shows people crossing a flooded street on a makeshift balsa raft in Villahermosa, Tabasco state, Mexico, September 4, 2010.  Credit: REUTERS/Luis Lopez
Article continues: http://www.reuters.com/article/idUSTRE68404Q20100905